About Us
TSIANFAN a DISPLAY RACK MANUFACTURER
specialized in providing display solutions for Building Material, such as
Stone, Wood Flooring Tiles, C
eramic Tiles, Mosaic Tiles, Doors, Sinks and Faucets.
Product range includes Floor Stand, Desk Stand, Sample Book, Sample Display Board, Sample Box, etc.



WITH 15 YEARS EXPERIENCE of DISPLAY DESIGNING and EXPORTING
TSIANFAN, establish on 2008, accumulated lots of customers of the building material industrial. Cooperate with many professional marketing and purchase man. Know the trends of the marketing of these industrial. Cultivate a professional design and sales team, can give you more valuable suggestions and ideas with quick response without any barriers to English communication. One-stop service can help you save time on purchasing and building your brand image. Let you have more time to focus on your products sales.
 


OWN FACTORY
4000m² Workshop, product line including MDF, Metal, Plastic, Cardboard Products. Make the distance between customers and factory shortly, customers can touch the actual cost without a trading company and customize the display product to meet any special needs. With nearly 100 employees and an annual output value of more than 80 million US dollars.
 


FOCUS on QUALITY and CUSTOMER SERVICE
TSIANFAN passed I-S-O 9001 and SGS certification in 2017. Five-step Q C controls each process of production to make sure no mistake. 80% of the products are sold to famous European and American companies, and the business involves the United States, Britain, Canada, France, Italy, Germany and other developed countries. Since the establishment of the company, we have been striving for quality, won the support of many well-known companies.
-----------------------------------------------------------
OUR QUALITY CONTROL
1. Raw Material
The raw materials are sourced from regular, licensed suppliers. Meet the national standards of technology, quality and environmental protection


2. Certificate of our Production



3. TSIANFAN Insist Five Steps Quality Control

-----------------------------------------------------------

Our Techonlgy
1. Design
15 Years Experience of Display Rack Industrial, professional in the structure design, can meet any your special need, just tell us the looking or function you want, then we can give you several option. Years with the stone industry, ceramic tile industry, wood flooring industry leading brand cooperation, focus on safety , high-end looking ,innovation, simplified installation and how to highlight the customer's products.

2. Cutting
- Automatic pipe cutting machine
which integrates automatic feeding, cutting, discharging and receiving into an efficient production line, complete with brush machine to remove burrs. The equipment is controlled by "PLC", safe in work, eco-friendly, stable and energy-saving to ensure the accuracy size of each raw material. To provide guarantee for the follow-up stand production.
- Laser Cutting machine
which can cut any irregular parts with high speed and smooth incision. High machining accuracy. Good repeatability. No damage to material surface. NC programming, can process arbitrary planar drawings,  no need to order a new mold, save cost and time.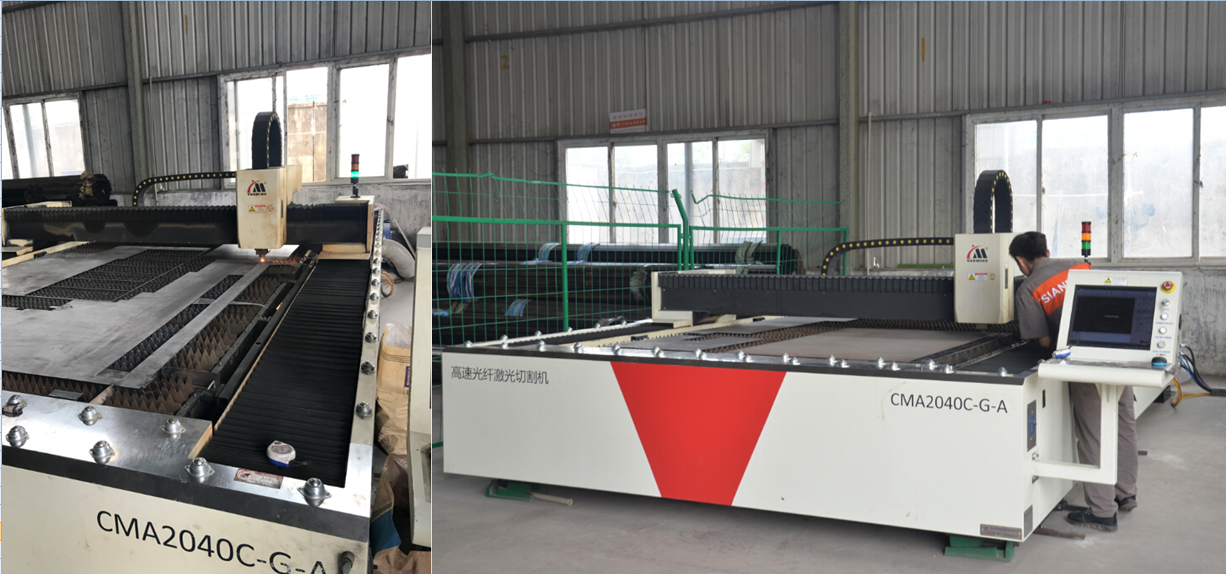 3. Large bending machine
Bending machine is the first choice for sheet metal processing of sheet metal, especially for large sheet metal.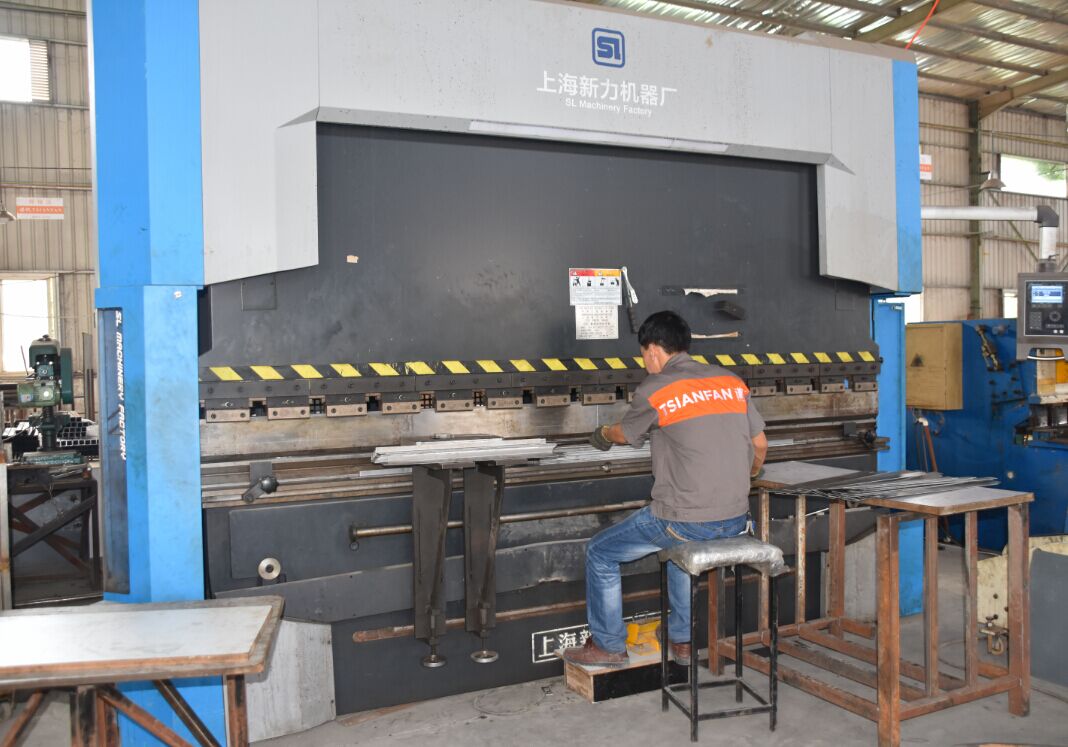 4. -Welding Skill
10 Years Experience of Display Rack Industrial, well knowing how to avoid ugly welding point and different welding process such as argon welding , full welding, pressure welding, spot welding. Workers can perform different welding process according to the performance requirements of different parts of one display rack. For example, select full welding for parts that need bearing capacity.
-Welding Robot
Tsianfan introduced Welding Robot which can Keep working for 24 hours in high precision, increase production, reduce mistake, save labor cost.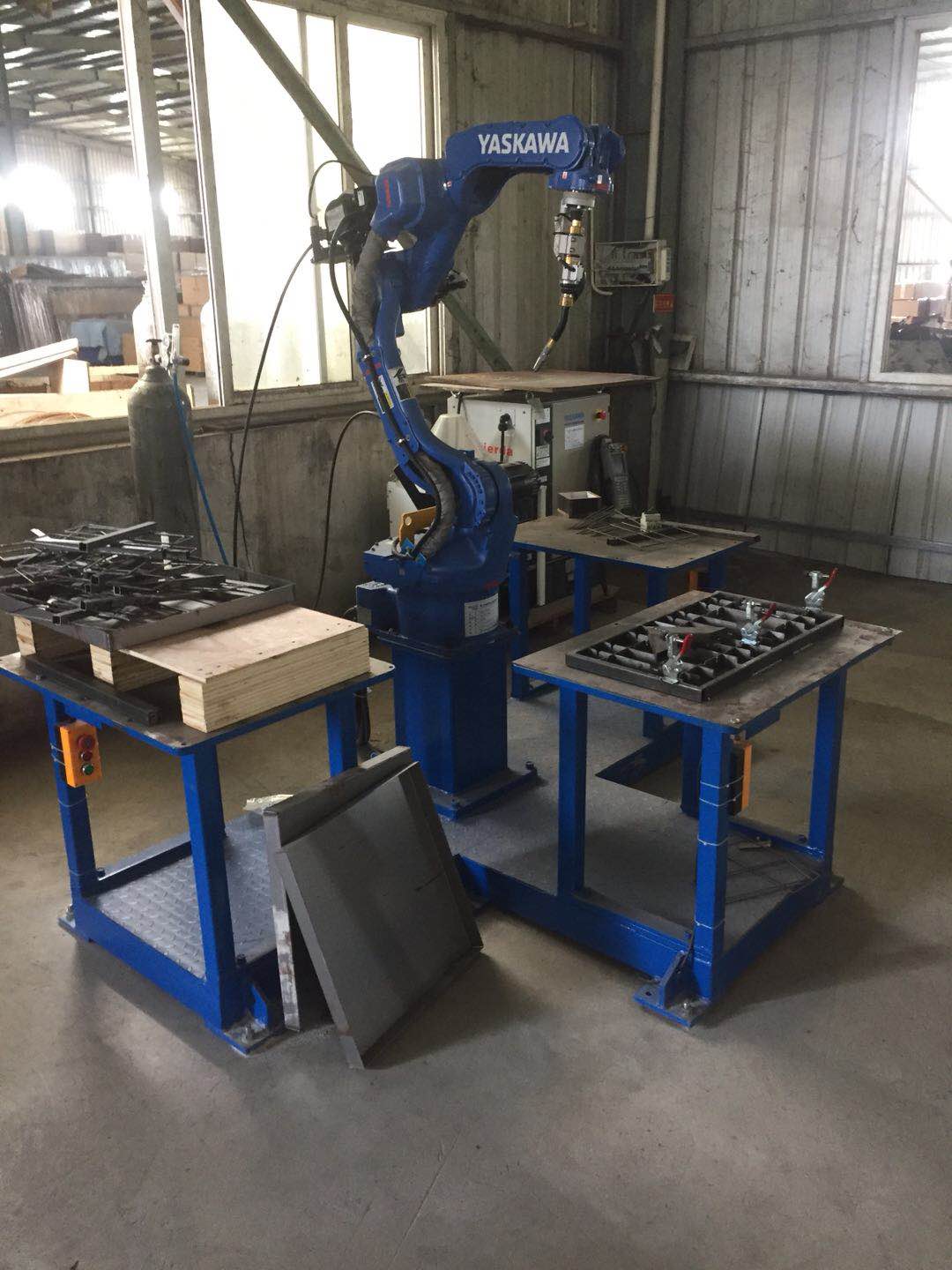 5.  Surface Trestment and Coated
The surface treatment of all display rack is high temperature paint, galvanizing, electroplating, or electrophoresis with good gloss, smooth,scratch-proof, waterproof and rust proof. Color of Batch order can be customized. Each Color have three Finishing Option - Glossy finishing, Matte finishing, Frosted finishing. Do not use spray coating and other cheap surface treatment.